After a lot of fucking about and procrastinating, I finished the last 5 mahreens for my first Angry Squad. I thought by not letting myself work on anything else until they were done, I would be more likely to get off my ass and finish them quickly. I was bullshitting myself. Anyway, here's the result:
It's hammer time. Ha ha ha...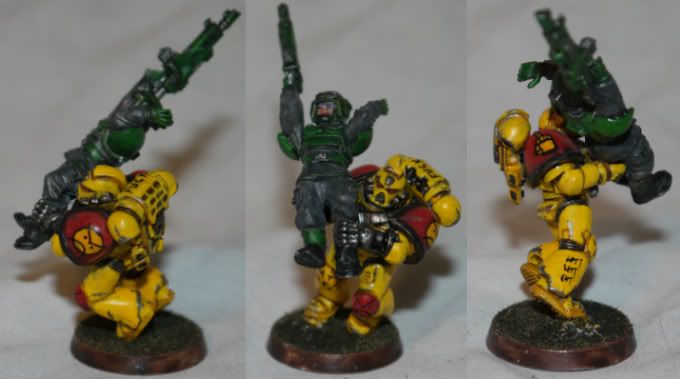 This was a request form a guard playing friend. He's quite sadistic when it comes to the lives of his dudes.
The power bat turned out better than I thought. Although it's a clunky miniature, he served me well in his days as a Flesh Tearer (and as a Salamander before that!); for this reason I will look past his goofy helmet and big hands. Speaking of Salamanders, does anyone else remember when they all had Initiative 3? That was fucking stupid. Also I am old.
KILL IT WITH FIRE!! SUFFER NOT THE FURRY TO LIVE!!!!
The Emperor's finest pest control.
There you have it, my first completed unit. I may revisit some of the bases later, but I never have been terribly imaginative or motivated in that respect.
As I said before, I'm using Blood Angel rules to make this force. As a side project, I am planning on "re-imagining" the rules for all the units (the ones I use anyway) with the intent of making a Codex of sorts for myself detailing everything in my army. Since I finished my Angry Squad first, here's what I came up with for Death Company:
Angry Marine Squad: 20 points per model.
Unit Composition: 3-30 Angry Marines
Unit Type: Infantry
Wargear:
Power Armour
Frag/Krak Grenades
Random Bullshit - Angry Marines are masters of unconventional and improvised weaponry. Random Bullshit counts as a CC weapon and bolt pistol. If the model does not have a bolt pistol (as pistols are generally for pussies), it is assumed he can throw whatever he DOES have at the enemy to the same effect.
Special Rules:
They're Fucking Angry! - The seething, unstoppable, violent rage of an Angry Marine makes a Khorne Beserker look like a whiny cunt who's throwing a tantrum. For this reason, Angry Marines are subject the the Furious Charge, Feel No Pain, Fearless, Relentless and Rage universal special rules.
FUCK THAT BORING SHIT - Angry Marines are extremely impatient when it comes to slaughtering the Emperor's foes and show a complete disregard for tactics, objectives, "faggoty spehss elf artifacts", and so forth. An Angry Marine squad never counts as a scoring unit.
Options:
Any Angry Marine may replace one or both parts of his Random Bullshit with the following:

Power Weapon (typically a power bat, power broken bottle, power brick, etc) - 15 pt
Powerfist - 25 pt
Power Feet (Counts as a pair of power fists) - 50 pt
Thunder Wrench (Counts as Thunder Hammer) - 30 pt
For every five models in the squad, one Angry Marine may replace part of his Random Bullshit with:

Hand Flamer - 10 pt
Melta/Plasma Pistol - 15 pt
Dedicated Transports
:
Rhino (Fired from orbit/Angry Titan, counts as Drop Pod)
Drop Pod
Land Raider
Razorback
That's it for now. My next intended projects are two Belligerent Engines, painting Moarfistin, and maybe my Black Brother squad.